Events
2019 UniSA+ and Leadership Awards
4th December 2019
Fulcrum People were involved in the design and delivery of UniSA's first student leadership program in 2012, which has since evolved to include:
ASPIRE, the University's foundational self-development and leadership program available to all students,
UNITE, a bespoke leadership program available to established student groups,
LEAD, the University's capstone student leadership program, designed specifically to support existing students leaders to develop their leadership style and support their leadership journey, and
The UniSA+ Award, a structured scheme and transcript of a student's co-curricular achievements.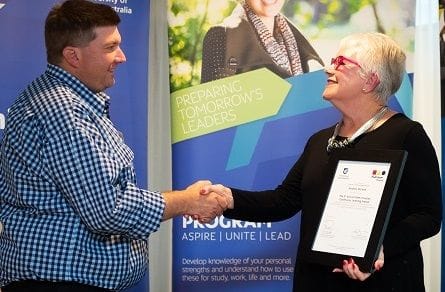 Pictured - Carol Crossley presenting Andrew McLean the 2019 "Peter Crossley Award for Lifelong Learning"
Peter Crossley was integral in the development of the program that started it all, and was loved by the students for his enthusiasm and committed approach to helping them to become their best. Peter passed away in May of 2014. Carol and Kath introduced an award at UniSA that is presented to one special student that has displayed ongoing commitment to learning and personal growth each year, the "Peter Crossley Award for Lifelong Learning."
In 2019, the award was presented to Andrew Mclean, one of the 2019 LEAD Program students. Andrew personifies a lifelong commitment to learning. Having previously managed multimillion dollar construction projects, Andy has embarked on a values driven journey to influence educators to influence students to influence educators and on and on. Over the past year, Andy has embraced every opportunity to challenge himself and explore his strengths and vulnerabilities. Andy has an insatiable appetite to learn, even when the learning is uncomfortable and challenges everything he believes in. Andy was a most worthy recipient of this award.
Carol presented this very award for the 4th time at the 2019 UniSA+ and Leadership Awards Evening on Wednesday 4th December 2019, the University of South Australia's annual ceremony at which each of that year's student leadership and volunteering participants are recognised.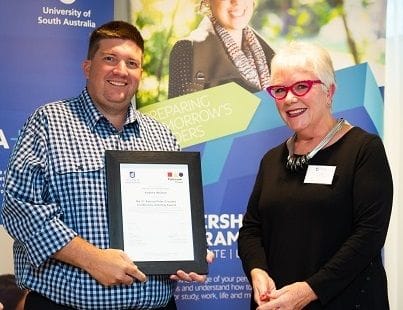 Pictured - Andrew McLean with the 2019 "Peter Crossley Award for Lifelong Learning" and Carol Crossley
---